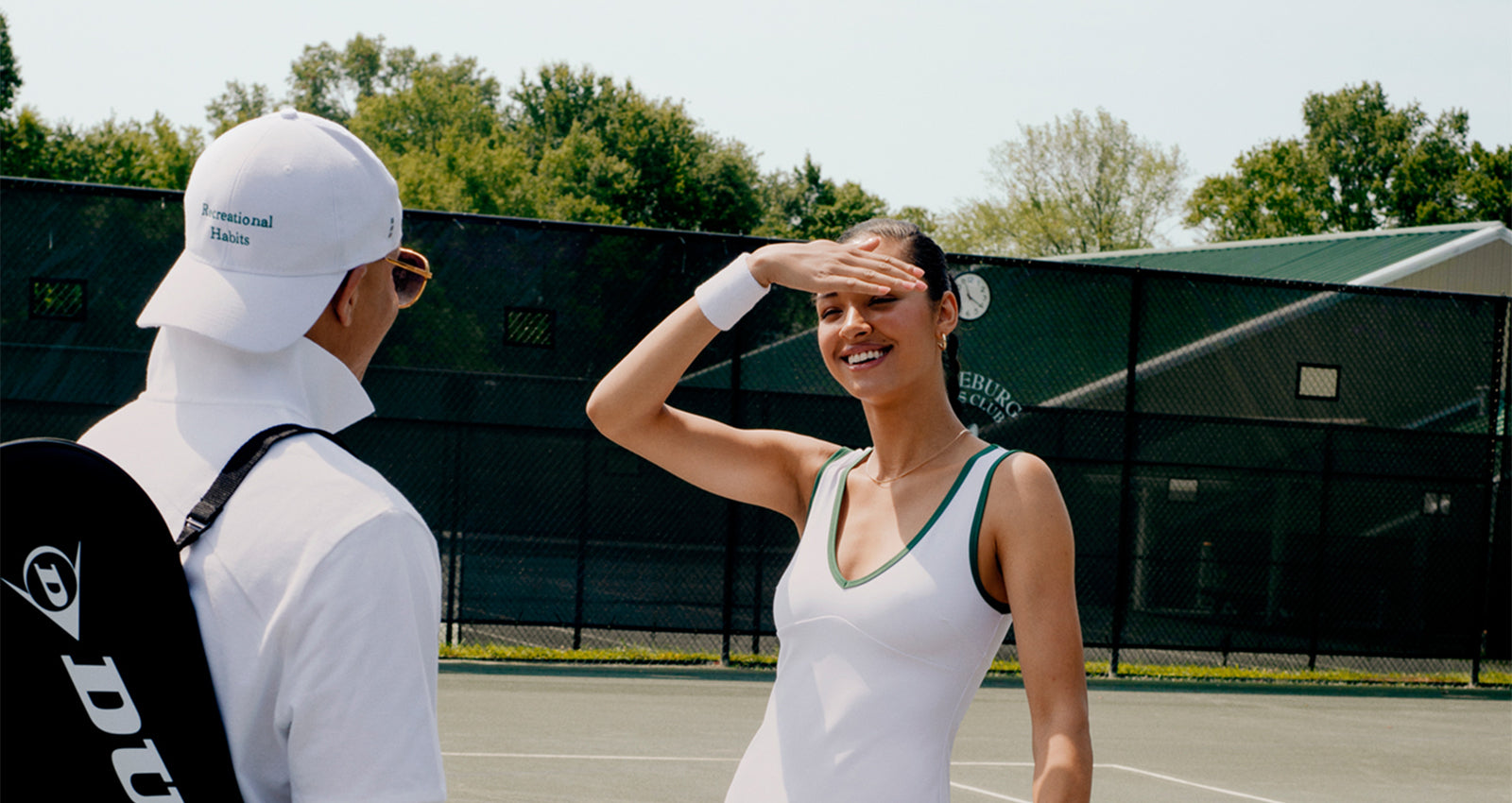 Getting Back In Shape, In Style
Planning for activities across the long weekend? So are we! The past two years of restrictive measures have gifted us extra pounds we are not quite keen on keeping. So if you are on the same boat as us, fret not. Let's talk about what we can do, and how we can dress - to shape up in style.
SWING BY THE TENNIS COURT
A great cardio workout and fun to play with friends, tennis increases your aerobic capabilities (something we all need after staying in for so long!) and improves your metabolic function. You're constantly running, stretching, and moving every inch of your body.
(Left: Varley Carina Dress | Right: Varley Amar Dress)
Made for rounds of the iconic racket sports, get moving in these fuss-free dresses with a flared pleated skirt silhouette so you can ace the game in comfort and ease. Carina boasts an elegant cut offering high support while Amar sees a sporty, preppy look for those feeling competitive.
Alternatively, throw on a cotton sweater for chilly days or indoor games alongside a matching pair of elasticised shorts for the ultimate all-day fit to take you from the court to the lounge area in an instant. 
(Left: Recreational Habits Cropped Crew Sweater in Vanilla & Recreational Habits Long Cotton Shorts in Vanilla | Right: Recreational Habits Cropped Crew Sweater in Green & Recreational Habits Long Cotton Shorts in Green)
HIT THE GYM
Regular exercise can truly benefit your health, mind and body. Be it a run on the thread-mill or a go at weights for strength training - consistency at the gym will no doubt help you reach your fitness goals steadily with time. 
Kickstart your session with a pop of colour to power you through the hour. Slip into seamless, highly-supportive activewear that flatters, smoothes and sculpts your body and layer a lightweight jacket above for added functionality and style before and after gym.
(Jacket: Varley Diego Windbreaker | Top: Varley Let's Move Harris Bra in Lavender Mist | Bottom: Varley Leo Shorts in Black)
WALKS AROUND THE NEIGHBOURHOOD
If you're looking for something a little more laid-back, try incorporating longer walks around the park, your neighbourhood, or just out and about within your everyday to improve cardiac health, boost your energy and mood, and tone your legs - all while burning calories!
Take the time to enjoy some music, the sights around you, and the opportunity to do some undisturbed thinking while your body thanks you.
 (Top: Recreational Habits Serena Tank Top in White | Bottom: Recreational Habits Anna Ball Shorts in White | Jacket: Billie Quarter Zip Jacket in White/Green)
Getting into shape and achieving your goal within a realistic time frame will never be a one-time wonder. It is all about creating a routine within your lifestyle that focuses on your body and health, knowing that your efforts will pay off over time. Until then, look your best so you can always feel your best no matter the activity.