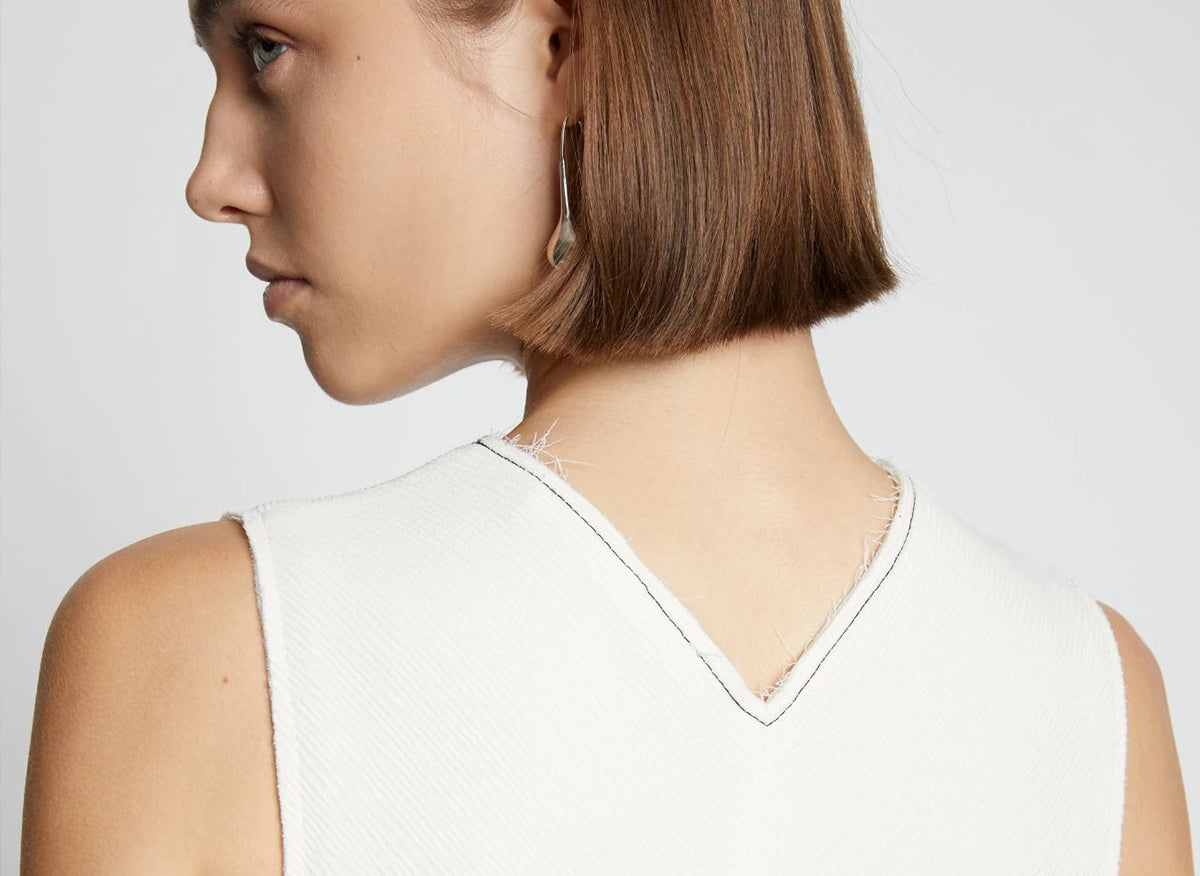 The New Season: Proenza Schouler White Label Pre-Spring 2022
The chill, erudite cousin of fashion house Proenza Schouler, White Label celebrates easy versatility and relaxed silhouettes of contemporary design.
A diffusion line of laid-back essentials – it is the Proenza Schouler style transformed quieter, intimate, and more wearable for everyday living.
PRE-SPRING 2022
This season celebrates the joy and pleasures of dressing up again, imagining what an intelligent and adult wardrobe could look like for a life post-pandemic as many reemerge into a world that has greatly changed.
The sensual and textile pleasures of a luxury wardrobe are highlighted and celebrated as a reprieve to the sartorial casualization of the past year while retaining much of the effortlessness and ease we have come to know and love.
(Left to Right) Smocked Dot Dress , Rib Knit V-Neck Top in Off-White
Distinctive proportion play exists throughout, with knits sculpted into soft, feminine structures perfect for everyday wear.
Perfect for those with a penchant for understated styles, style it up with minimalistic accessories and boots to complete the modern, sophisticated look.
(Left to Right) Tie Dye Silk Shirt Dress in Sienna , Tie Dye Silk Shirt Dress in Blue
Colours brighten up the collection for the approaching season, a thoughtful offer between warm marigold shades and cobalt blue hues ideal for sunny days out and about.
For the bold and expressive, pair it with neutral solid-coloured shoes to let the clothing do the talking and we'll spot you from a mile away.
(Left to Right) Dot Jacquard Skirt & Sweater , Crepe Bi-Color Top & Crepe Suiting Wide-Leg Pants, Cotton Twill Tapered Pants in White, Rib Knit V-Neck Top in Off-Black
This collection exists in the most liminal of times where one foot remains in the comforts of the bubble we know while the other stands firmly in the unknown moments we are now beginning to enter.
Of comfortable drapes and premium fabrication, Proenza Schouler White Label has something for the everyday, modern woman.