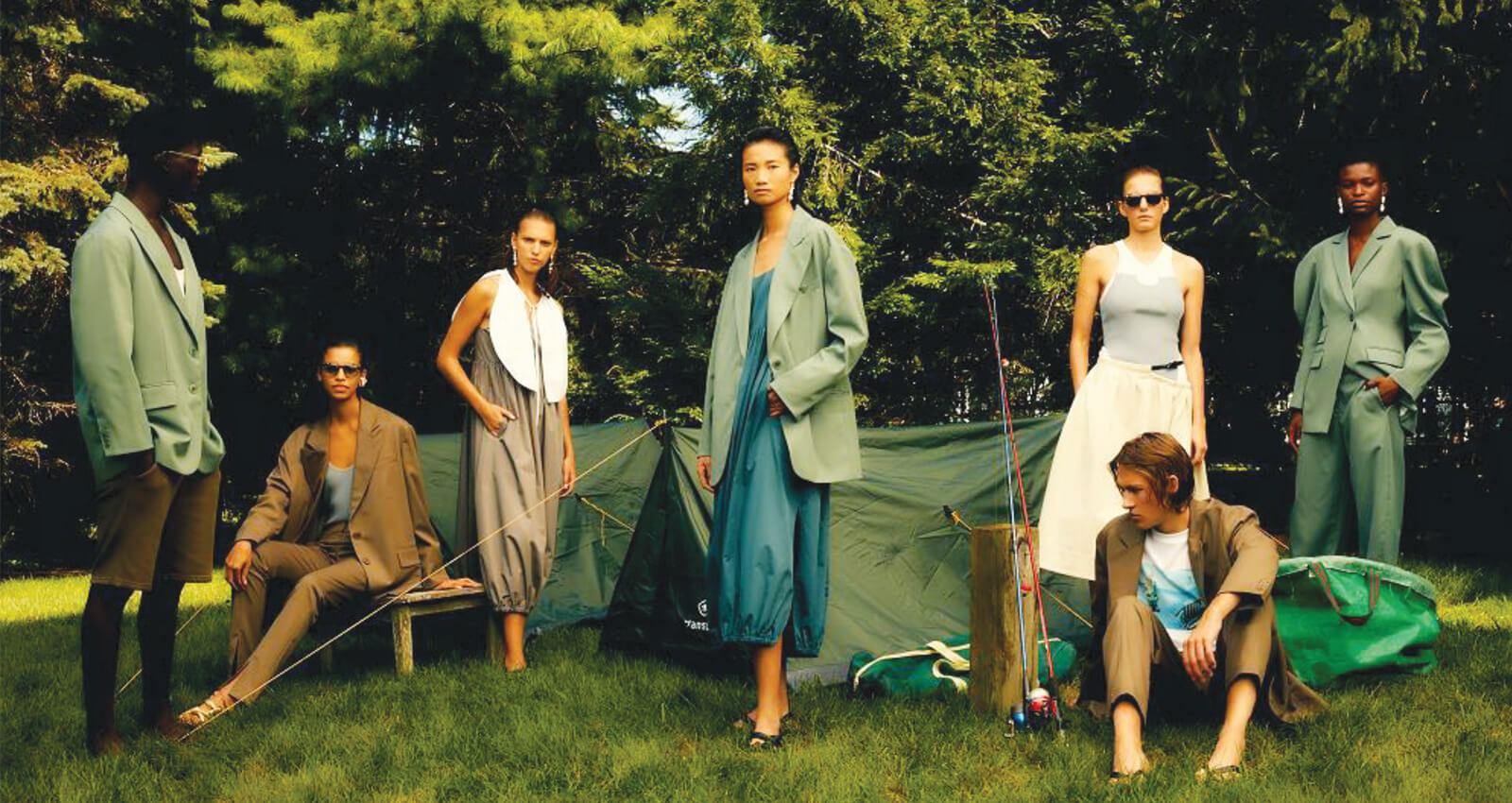 Eco-friendly fashion brands leading the sustainable journey
For years, the fashion industry has been criticized for the devastating impact it has on our environment. According to Business Insider, it produces 10% of all humanity's carbon emissions, is the second-largest consumer of the world's water supply, and pollutes the oceans with microplastics. In addition, 85% of all textiles go to waste every year. 
The fashion industry is beginning to incorporate more sustainable practices in their collections, from designers like Sandra Sandor from Nanushka to Amy Smilovic from Tibi. If you are looking to make a shift to sustainable fashion, read our blog on some of our favourite eco-friendly brands to look out for!
Founded by Sandra Sandor, the Budapest-based modern bohemian brand offers everyday elegance that is timeless and sophisticated. Considered details, conscious materials, and quality are at the core of their design approach.
Sustainability is at the heart of Nanushka and they strive to transform the way fashion is made and consumed by implementing ground-breaking technology to consider materials. Their team has worked closely with designers to ensure sustainability is taken into account when deciding all materials and production for each collection. 
Using materials such as cruelty-free vegan leather, recycled polyester, recycled silk, upcycled fabrics such as cotton and headstock materials helps to reduce textile waste, and the consumption of energy and water. 
From their design and craftsmanship ethos to their company culture, Nanushka has developed holistic products and services that nurture the soul, nature, communities and fulfill their function. 
Soon to be launched in Singapore, peony is an Australian swimwear label that focuses on conscious creation and sustainability across its designs. All peony pieces are made from recycled and sustainable fabric, which includes their printed fabrics, custom textures, and inner linings. Every fabric is thoughtfully selected for its reduced environmental impact and uncompromising luxury, hence compostable and biodegradable packaging are used throughout its supply chain.
For peony's printed fabrics, they use Econyl™ a 100% regenerative nylon made from disused fishing nets and nylon waste from landfills and oceans; and their lining is made from recycled and sustainable content. 
As for their ready-to-wear, peony focuses on natural fibers such as organic cotton, hemp, and linen, as well as sustainable fabrics like EcoVero™, a type of fabric derived from sustainably sourced wood pulp and certified by EU Ecolabel for environmental excellence. 
London-based fashion brand Rejina Pyo is built upon a philosophy that explores dressing as an everyday phenomenon, both mundane and extraordinary, for women all over the world. 
Rejina Pyo is committed to upholding the best animal welfare standards, making sure that they do not use certain fibers and materials like fur, exotic skin, and merino wool. The label has worked closely with the suppliers to source and develop environmentally preferred materials such as certified organic cotton and linen as well as recycled cashmere and alpaca.
In partnership with Canopy, an NGO dedicated to protecting the world's forests, businesses like Rejina Pyo are supported with innovative solutions and better sourcing practices. With its minimum packaging to reduce any waste, every move made contributes towards an economy and society that values people, animals, and nature.
Tibi is an independent New York-based brand founded by Amy Smilovic in 1997 whilst living in Hong Kong. Tibi delivers a high-quality, sophisticated wardrobe that is clean, modern, feminine, and relaxed. Their collections speak to a broad range of individuals who seek individuality in their wardrobe. Amy hopes to inspire women to embrace and define modern femininity on their own terms. 
In commitment to sustainability, Tibi has worked with several European factories that manufacture sustainable and recycled fabrics such as Tencel fibers and organic cotton for their collection. The eco-conscious brand has implemented guidelines across the business, from recycled cardboard boxes for shipment to selecting responsibly sourced fabrics. 
Currently, Amy is also working towards a pre-order business model as she believes that it is very crucial to produce fewer items to prevent retail waste. With the start of the Tibi Style Class with Dione Davis, the brand's style director, both Amy and Dione would share their expertise around clothes, teaching consumers how to shop and style for them while reminding consumers to consider their purchasing choices carefully to reduce any unnecessary waste.
Founded in 1996 by Justin Thornton and Thea Bregazzi, Preen is built on an aesthetic of darkly romantic and effortlessly modern, juxtaposing the masculine with feminine and mixing of hard and soft. 
Sustainable fabrics are central to the SS21 collection; with Thornton and Bregazzi making use of repurposed fabrics, favorites from past seasons, and some that never made it into the collection. Preen would include recycled materials in their collection like headstock, surplus, and leftover tweeds, reducing environmental impact. 
CLOSET acknowledges that sustainability is an ongoing journey and we are committed to make every day through our business decisions. Step by step, towards a sustainable future, together! ♻️

style guide
Enhance your functional basics if you are not going back to office and wear them even after the pandemic
Read more