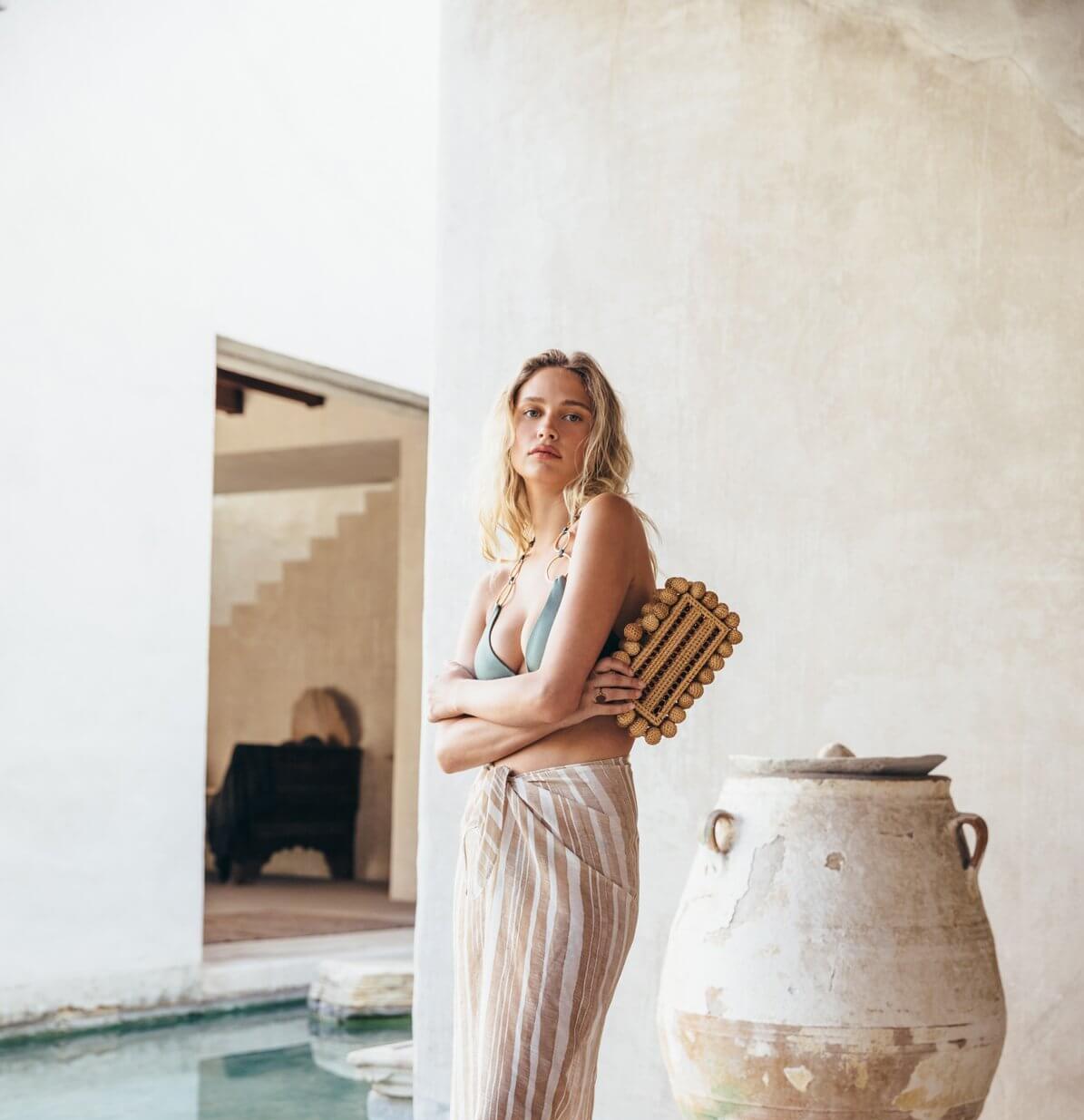 2021 Swimwear Guide by Body Type
Summer is here, which means it's a perfect time to head to the beach and get some vitamin sea! As each summer approaches, you'll likely look for swimwear that is in trend or more timeless that you'll love this season as much as you will for seasons to come. However, there are plenty of choices, which can make it tricky for us girls to find that perfectly flattering swimsuit. So, the first step towards knowing which swimsuit you'll look good in is to understand your body shapes.
Here, we've narrowed down a list of swimwear that is both comfortable and feel good in it. From inverted triangle shape to round shape, we've got you covered!

On model: Lexi Bikini Top & Gigi Bikini Bottom, Cult Gaia
1. Rectangular / Straight
Straight silhouette

Minimal difference at hip or bust

Not much waist definition
One-piece swimsuit
A one-piece that has a high waist cut with a deep, plunging neckline to emphasise smaller breasts and hips. Look for a belted waist design to accentuate your waistline. For a more obvious silhouette, a one-piece with a cut-out at the sides can bring the illusion of an hourglass shape.
Top & Bottom
A lower coverage triangle top or halter neck will add flattering curves to your bust, giving you a more curvy silhouette. For bottoms, look for side-tie bikini bottom, ruffles, frills and ruching are perfect for added extra volume to hips. 
On model: Renaissance Bandeau Set, Peony
2. Triangle / Pear
Hips, butt and upper thighs wider than the shoulders and chest

Smaller bust measurement 

Well-defined, curvy butt
One-piece swimsuit
Look for designs with eye-catching necklines and details up top, and plenty of coverage below. Also, look for swimsuits that has light colours and design around the chest with plain, darker colours around the waist.
Top & Bottom
Strapless bandeau tops are perfect for Pears. Deep neckline, bold designs, padded bikini top are a great way to emphasise the natural bust. Go for tops with ruffles details or embellishments to add volume on the top. When it comes to the bottom, go for a high cut waistline to add coverage to your hip and elongates your legs while emphasising your curve silhouette. 
On model: Ruffled One Piece, Peony
3. Inverted Triangle / Strawberry Shape
Shoulder and bust may be wider than hip
Your chest may be larger and your back may be fuller than rectangles

Small bottom and slim legs
One-piece swimsuit
A one-piece with eye-catching shapes and details around neckline and waist to flatter your décolletage, with darker colours or cut-out at waits to flatter a wider waist. 
Top & Bottom
Designs that draw the eye up to the bust and neckline. If you have wide shoulders, avoid strapless or strap designs. With your bikini bottom, a high cut bikini bottom is a great way to define your figure. For narrower waists, a side-tie bikini bottom will emphasise the curve of your hips and butt while highlighting elongated legs.
On model: Claudia Bikini Top & Bottom, Cult Gaia
4. Hourglass
Hips and shoulders are about the same width, with a well-defined waist.

Medium-to-large bust, in proportion to hips and butt.

Curvy and well-balanced figure
One-piece swimsuit
A high cut one piece with a deep plunge neckline will emphasise your natural curve and lengthen your legs. For maximum curve enhancement, go for a one-piece with cut-out detail at the side. 
Top & Bottom
Highlight your full bust with a classic breast-enhancing triangle bikini top. If you have a smaller chest, try a bandeau design. If you have larger breasts, you may prefer the extra support of a halter top. Simple bottoms that cut right across the waist look great. If you want to accentuate your natural curves even more, go for high-cut bottoms to draw attention to your slim waist.
On Model: Biscotti Balconette, Peony
5. Round
Larger bust

Fuller mid-section

Narrow hip
One-piece swimsuit
A fitted one piece can help add definition to your figure. Look for designs with shapes and details around the hips and neckline, with darker colours around the middle to flatter a wider waist.
Top & Bottom
If you're well endowed on the top, go for a bikini top with underwire, adjustable straps and waist support to make you feel confident and comfortable to move around. A bikini bottom with higher coverage will give you extra support and hold your hip better. 
Whatever your shape is, the most important thing for looking good in swimwear is feeling good about your body. Remember, the best swimsuit for any shapes is the one you've already got – as long as you're wearing it with confidence.