The Future of Athleisure: Where Active Meets Urban
Of a seamless blend of athletic functionality and a chic, leisure aesthetic that has steadily crept into our daily wardrobes over the past few years, athleisure has taken the world by storm with its endless offerings of balanced comfort and style. 
Having only found a solid footing in the early 2000s, athleisure has grown to become so pervasive around the world that it's now more like a movement than a trend. Increasingly designed to be worn on the daily than just for the gym, athleisure has proven itself to be more than just a fashion fad - but a fashion statement to be made anytime you want. 
The Rise of Athleisure
Versatility and functionality sits among the top reasons behind the significant success of this soaring trend, and consumers have been and are still turning towards performance clothing that can see them through their work-out yet take them to brunch right after while staying comfortable yet stylish.
It is no wonder why with the addition of the following factors, athleisure has undeniably changed the way we dress in our everyday lives.
The Celebrity Lifestyle
Undeniably, celebrities have always shaped and influenced the fashion industry and what's popular in the market. From models to media personalities, well-known celebrities like Kendall Jenner, Rihanna and Hailey and Justin Bieber, Harry Styles and Drake are often seen in this active-meets-urban style. 
(Left to Right - Kendall Jenner, Hailey Bieber, Rihanna, Bella Hadid)
(Left to Right - Tom Holland, Harry Styles, Justin Bieber, Drake)
Driven by their endorsements showcased on social media alongside the portrayal of an active, healthier lifestyle everyone has come to advocate for, the world has always been taking notice - and taking inspiration for their next OOTD.
Comfort & Style
With the line blurred between activewear and daywear, athleisure is arguably one of the most - or the most comfortable style currently known to man. Yet it still manages to offer one of the most effortless, chic looks that anyone can pull off.
One way or another beyond lounge and activewear, people are beginning to incorporate pieces of athleisure apparel into more fashion-focused outfits - and vice versa. 
Think an oversized blazer thrown over a pair of joggers, topped off with your favourite sneakers for that effortless, dressed-up yet casual look we are seeing (and loving!) all over social media.  
(Left - Hailey Bieber, Right - Jerry Lorenzo)
A CLOSET Curation
In a COVID-19 reality where we saw the shift of prioritizing functionality and comfort in fashion over time, athleisure is an aspirational lifestyle and movement that is shaping the world's view on wellness, style and comfort.
As a result, affluent customers are now on the search for higher-quality choices that will in turn become wardrobe staples that can last them for the season and far beyond. 
Thus, CLOSET is proud to introduce a curation of premium athleisure brands thoughtfully brought in from around the world - so that you can dress for and achieve the lifestyle you deserve.
Recreational Habits
Started by power couple Marlon Muller and Jackie Skye Muller, Recreational Habits is a fashion lifestyle brand created to bring the exclusive world of the preppy elite and their hobbies to the historically excluded. Discover everyday styles to take you from the playing field to brunch after in an instant, and premium fleece sets made for effortless style and versatility wherever you take them. 
ROTATE Sunday
The younger, laidback sister of cult Danish label ROTATE Birger Christensen, ROTATE Sunday is a collection of sustainably-minded, premium loungewear characterised by off-duty silhouettes and athleisure elements - but elevated with the bold, sensual personality of ROTATE that is sure to make a statement.
Varley
A performance-fashion brand founded in 2015, Varley is designed for the modern-day woman on-the-go to take her confidently from fitness and leisure at any time. Driven by passion and anchored in innovation, this London-based brand builds a wardrobe of elevated yet understated must-haves for how we move and live. 
Manors Golf
Made for the modern man, Manors Golf is inspired by the style and sophistication of a bygone era. This London-based golfing apparel brand 'puts personality before performance and swaps stuffy for stylish', re-imagining its pieces with a contemporary twist made to last.
Golfkicks
Started by 3 buddies in a Denver garage who had shared troubles over finding cool and comfortable golf shoes, Golfkicks is a Shark Tank success story that offers addable traction to transform any sneaker into golf shoes so that you can play in both comfort and style.
Embracing Athleisure
Having permeated nearly every area of style, this versatile trend is showing no signs of slowing down. Explore the everyday aesthetic that offers comfort and practicality without fail, while still remaining stylish and fun so that you can always look and feel your best.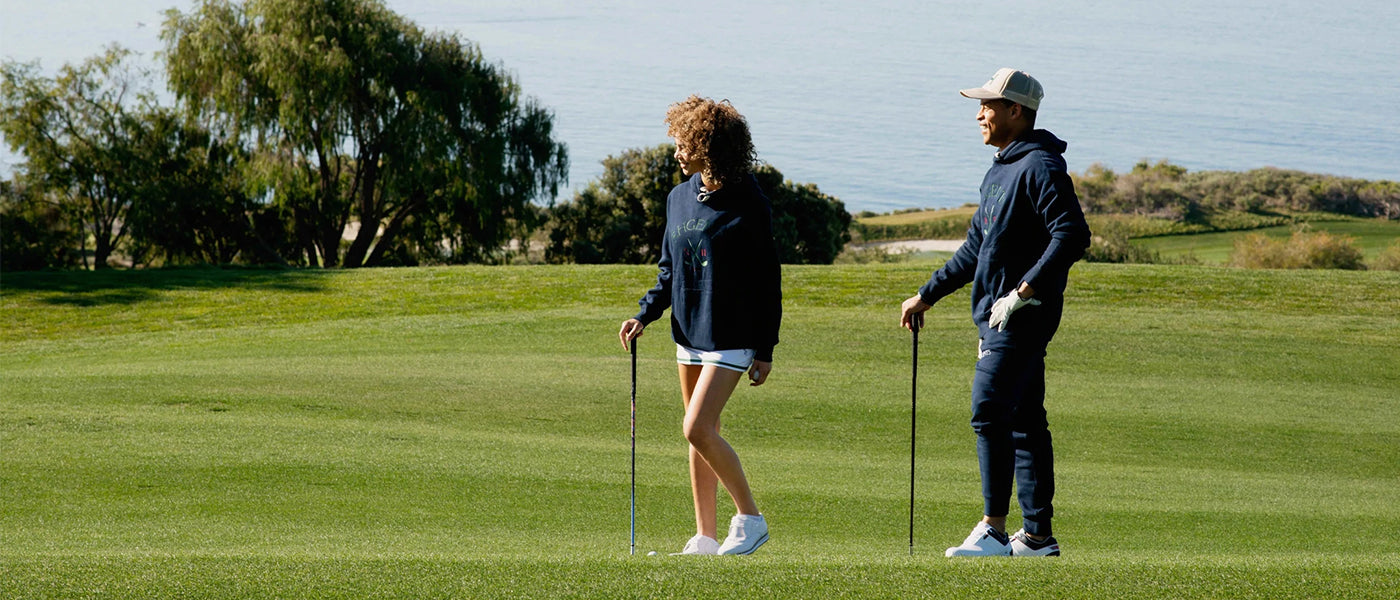 Get Preppy With Recreational Habits
Started by power couple Marlon Muller and Jackie Skye Muller, Recreational Habits is a fashion lifestyle brand created to bring the exclusive world of the preppy elite and their hobbies to the hist...
Read more