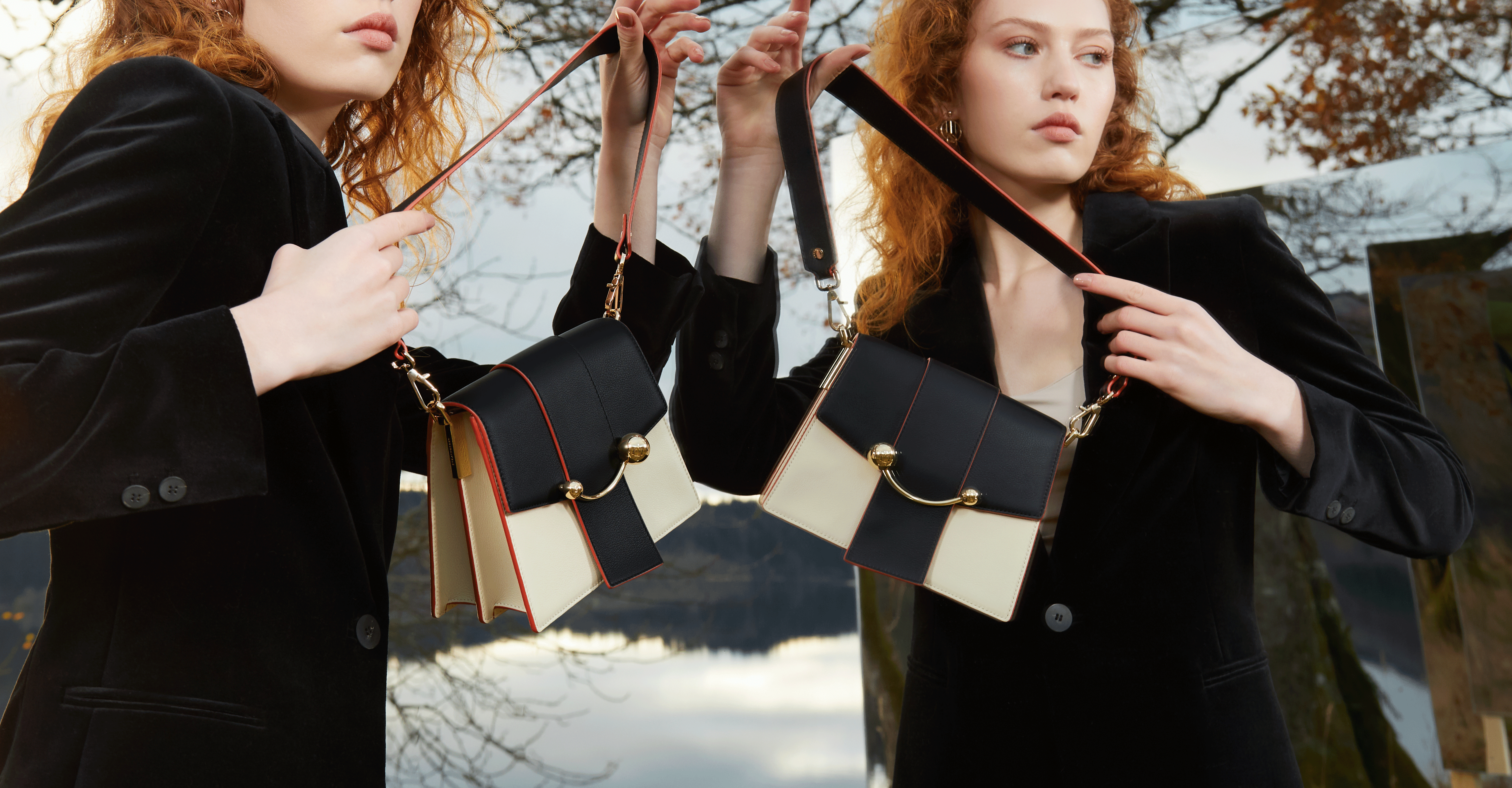 Of British Art Nouveau | Strathberry Spring Summer 2022
Strathberry is an Edinburgh-based and internationally known brand founded by husband and wife team Guy and Leeanne Hundleby in 2013.
"With the name Strathberry, we really wanted to honour our Scottish roots and named the brand after the word Strath, meaning wide river valley in Scots. In the past, berries were used to dye the traditional Scottish fabric and materials. This is where Strathberry comes from." Leeanne Hundleby
Specialising in luxury leather goods, Strathberry creations are meticulously handcrafted in Spain using only the finest quality Spanish leathers and finishes. Known for its instantly recognisable bar closure and minimalist design aesthetic, Strathberry's elegant lines, exceptional attention to detail and celebrity endorsement have lead to a global following.
SPRING SUMMER 2022
Taking inspiration from the dazzling aesthetic of the British Art Nouveau style, this season captures the essential femininity and flowing symmetry behind the art of some of the most renowned and innovative Scottish artists of le fin-de-siècle. 
Paying tribute to the idea of sisterhood and the sense of independence and freedom expressed through art, this collection features finely-crafted crochet detailing, luxurious embossed croc and buttery pebbled calf leather - all designed to convey a sense of ethereal beauty and geometric order.
Featuring the East/West Bag in Black/Diamond with Fire Edge
An effortlessly elegant go-to style for both day and evening wear, defined by a structured silhouette and the signature Strathberry bar closure which securely holds the top flap in place. The gold chain can be offers adjustability to two different lengths, allowing the bag to be carried both over the shoulder or crossbody.
Featuring the Lana Osette Bag In Vanilla/Tan
Handcrafted from buttery soft pebbled finish leather into a soft structural form, the Lana Osette features an elegant drawstring closure completed with the Strathberry signature bar. In a new take on a classic bucket bag silhouette, this versatile and compact daywear bag features both a top handle and a longer strap, allowing it to be carried crossbody or in the hand.
Featuring the Mini Crescent Bag in Vanilla/ Diamond
The Mini Crescent features a contemporary twist on the iconic Strathberry bar, reimagined into an elegant arc. This versatile day-to-evening bag that can be worn in multiple ways - in your hand as a clutch, over the shoulder using the wide leather strap, or crossbody using the gold chain strap.
Designed to be cherished year after year, Strathberry's creations are perfect companions for any occasion. Spring Summer 2022 collection is now available at CLOSET, Scotts Square, Singapore. 


gift guide
Valentine's Day is fast approaching, and we know that gift-shopping for one (or more!) of the most important people in your life can get stressful at times. Luckily for you, CLOSET has put together...
Read more