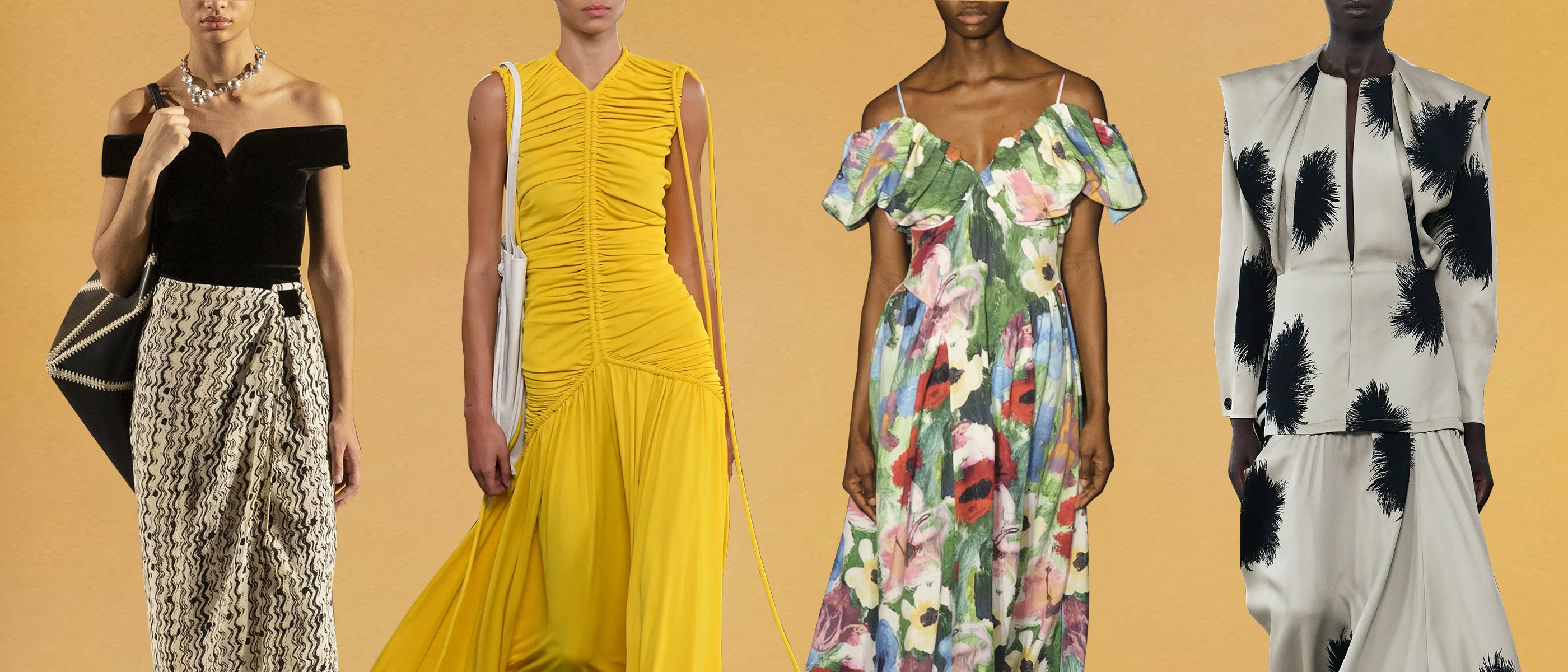 Runway Trends from Fall Winter 2022 Fashion Week
With the introduction of elements unfamiliar to the traditionally-known moody vibe of the season, the Fall/Winter 2022 Fashion Weeks see the return of edginess with a hint of nostalgia taken from past seasons. An insight to brighter days ahead with the offerings of party-ready styles and flamboyant colours. 
From styles you'll take with you on vacations to individualistic fits for the bold and expressive, we have rounded up the coming season's top trends just for you.
From left to right: Proenza Schouler, Christian Siriano, Tory Burch
A modern, layering idea for days you want to elevate your outfit -  add definition to structural staples with a dramatic, thick waist belt or sash for added flair and style. A cousin to the much-loved corset styles and a soon-to-be wardrobe essential for many - the key to making a thick waist belt look good is all about proportions. The longer your belt, the lower your outfit ends. 
From left to right: Proenza Schouler, Anna Sui, Carolina Herrera, Oscar De La Renta
Fashion's obsession with anything sparkly is still going strong no matter the season. Fall/Winter used to be a lot about staying comfy in sweats, but with the pandemic having gotten to all of us for the past two years, we all know just how badly we want to experience social gatherings, parties and more! Explore the perfect visual texture for anytime you want a pop of colour and drama.  
From left to right: N°21, Fendi, Bottega Veneta, Prada
One of fashion's most daring trends has made yet another bold return to the big shows. This season, we saw various degrees of translucency being showcased on the runways, evoking the different moods and sensualities of each piece. An essential when it comes to layering, sheer pieces have always radiated effortless style and glamour however it's worn. 
From left to right: Max Mara, Jil Sander, Capasa Milano, Dolce & Gabbana
Imagine our surprise when we saw yellows of varying shades down the runways of Milan Fashion Week 2022. A visual reminiscent of joyous summer days sure to liven the moods of everyone around, many designers showcased at least one all-yellow look this season. We see it as a longing for brighter days ahead, so believe us when we tell you that yellow is sure to be a hit this season.
From left to right: Preen by Thorton Bregazzi, Simone Rocha, Erdem, David Koma
Black is loved all year round, but we all know that it shines the brightest every Fall/Winter season. This year, we saw this esteemed colour elevated through romantic elements of delicate lace, thoughtful fabrication and bold silhouettes. Black has never been boring (we know most of us can agree), but the collections this year have taken its potential to new heights; presenting us with a sensual allure fit for the confident woman. 
From left to right: Rejina Pyo, Ahluwalia, Conner Ives
You got that right. This season, we're putting minimalism on hold to welcome an array of inspiring, vibrant prints that are sure to spark joy. The pandemic has surely dampen our spirits long enough, and it's all about recreating the fun we have missed out on for the past two years. The ideal layering piece underneath a solid-coloured outerwear, or paired with contrasting prints if you're feeling extra fun. Go big and beautiful, you.
From left to right: Nanushka, Valentino, Christian Dior, Louis Vuitton
Featuring rounded shoulders and more generous cuts, we saw plenty of relaxed, body-skimming silhouettes walk down the runways this season. They are a style that will never go out of trend, and we have all grown to love and appreciate them more than we ever did for virtual and intimate gatherings. Explore comfort clothing elevated to ready us for the better days ahead.       
From left to right: Balenciaga, Courrèges, Chanel, Isabel Marant
The statement thigh-grazing, over-the-knee boot trend has always been a crowd favourite and is one that has never showed signs of slowing down. They may not look like the easiest kicks to don, but they really aren't that difficult to style and go with more outfits that you think. Over jeans, under coats or just with any mini-length outfit, the possibilities are endless if you're just bold enough to do it. 
Photo credits: Vogue.com