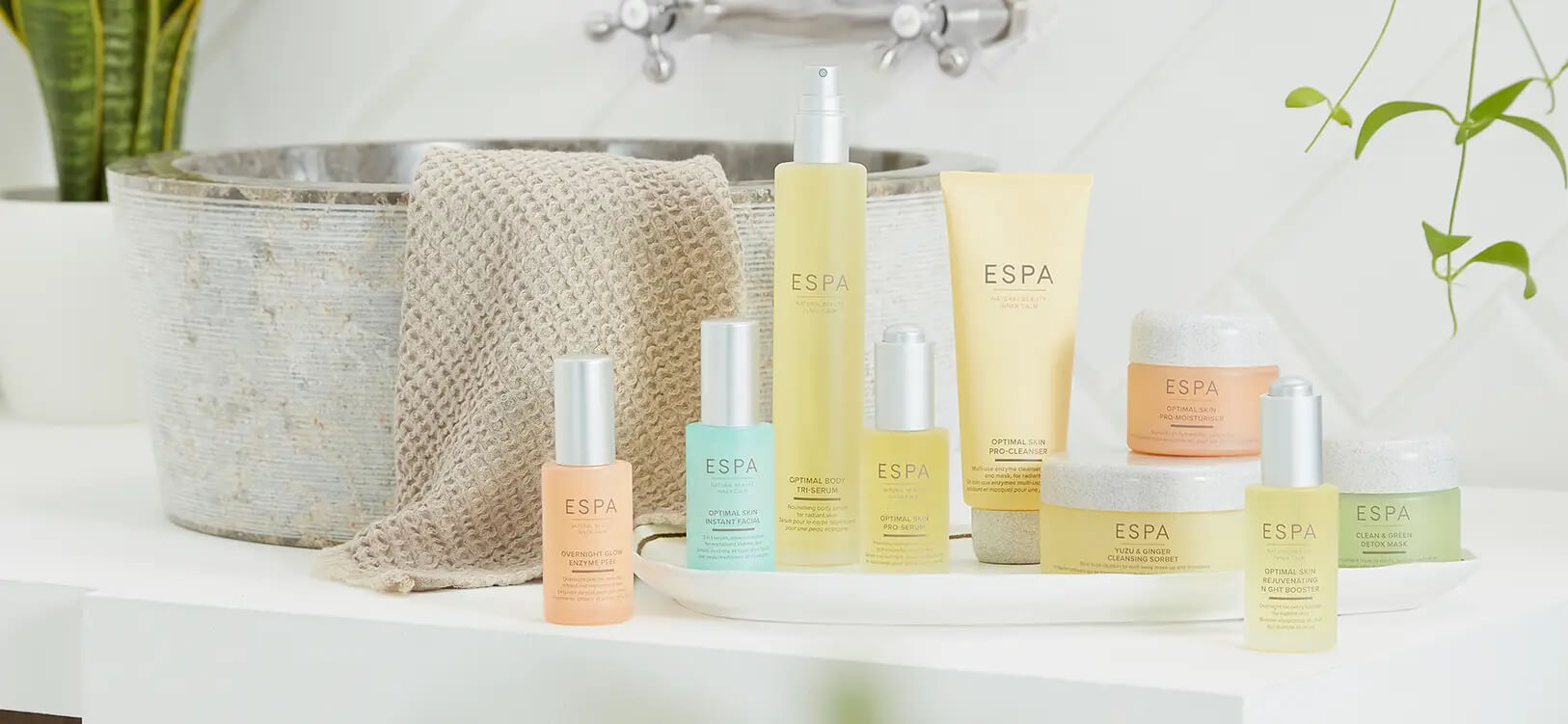 It is a new era at ESPA, England. Explore the steps they are taking to ensure the very best in conscious luxury skin and body care. 
Extracted from ESPA website 
Manufacturing
Because we obsess about quality, we control every element of our products - from conception to manufacturing. We have our own chemists, our own R&D laboratory and, above all, our own state of the art factory based in Somerset, England meaning we control our own production facilities. To do anything else would be a compromise.

Our factory holds an Ecovadis Silver Award which recognises excellence in sustainability and is independently audited annually against strict good manufacturing practise guidelines to ensure quality and safety. 


Nut Allergies
Customers with with nut allergies should consult medical advice if they are concerned about the use of and ESPA cosmetic products. If you have any queries please contact our customer service team. If you experience any skin irritation when using any ESPA cosmetics, it is important that you discontinue use.
Excluded Ingredients
We think that what you leave out says as much about your business as what you put in. The following is a list of ingredients we either avoid completely or use the minimum possible.

Synthetic colour and fragrance - Because some have been shown to irritate skin, we use only natural colours and scents. This is particularly important in the realm of scents, where essential oils and flower waters provide the beautiful fragrances our products are noted for.

Mineral oil - We don't use mineral oil at all as it's derived from petroleum and so isn't renewable. Instead we use some of the many natural plant-based alternatives like jojoba.

Silicone - Many cosmetics use silicone to create a film that gives the skin an artificially smooth feel. Unfortunately, this can block the skin's pores – which is why we use don't use silicone at all. Instead we use naturally derived extracts to make our products feel as smooth as silk.

Alcohol - We use only plant derived alcohol and then only where essential – since many people worry about alcohol drying their skin.

Parabens - Parabens are preservatives widely used in cosmetics and also foods and pharmaceuticals. Available naturally or synthetically, they prevent fungi, bacteria and mould. Questions have been raised over their safety so as a result, we stopped using parabens completely, replacing them with natural preservatives where possible.

PEGs and PEG derivatives - While they have a long, safe history of use in skincare, some still regard them as contentious. Wherever a suitable and effective natural alternative is available, we have replaced PEGs. We only use them in our bath oils and some cleansing products where we feel there is no pure natural ingredient that works as well.

SLS & SLES - Sodium Lauryl Sulfate (SLS) and Sodium Laureth Sulfate (SLES) are both very widely used surfactants – ingredients that help foaming and lathering. We believe there are more gentle, more natural alternatives so instead, we use mild, plant based surfactants like coco-glucoside and sodium cocoyl sarcosinate. We also use Sodium Lauroyl Sarcosinate and Sodium Lauryl Sulfoacetate which although they start with the same letters are not SLS or SLES and are completely different in structure and effect to SLS & SLES.
Safety & Transparency
Above all, ESPA formulations are created to be as safe as possible and not to irritate skin. Every ingredient we use has a long, safe history and each formula has been screened and approved by a qualified safety assessor. You can find a full ingredients list next to each product with links to an ingredients glossary explaining what key elements of our products do.
Packaging
In everything we do, we hope to make life a little more beautiful. But never at the expense of the environment, which is why we follow the 3 Rs: reduce, reuse, recycle.

Cartons and liners - Our cartons are sized to fit the product perfectly to reduce the amount of packaging. They are fully recyclable and made from cardboard which is FSC (Forest Stewardship Council) certified.

Glass - Despite the extra production and shipping costs, we have stuck with glass packaging because it is 100% recyclable and can be recycled endlessly without loss of quality or purity.

Caps – Our stone effect caps are completely recyclable and made using 5% PCR (Post Consumer Resin) inclusion in the plastic material.

Plastic Bottles - We use the minimum plastic possible for our bottles, and then only plastic which can be recycled and contains PCR inclusion in the material.

Tubes – Our stone effect caps are completely recyclable and made using 5% PCR (Post Consumer Resin), they can be easily removed for recycling. Our tube sleeves include 25% PCR inclusion, due to the nature of the barrier properties required to protect the integrity of the essential oils they are not currently recyclable. We are working hard on finding a solution to this.

Professional use products – when developing professional products for use in Spas and Salons we have increased the use of larger pack sizes and the ease of refilling to minimize packaging.

Shipping cartons and protective packaging – As standard we use cardboard boxes, reinforcement and paper wrap all of which are completely recyclable, in doing so have hugely reduced and restricted the use of bubble wrap and non-biodegradable chips.