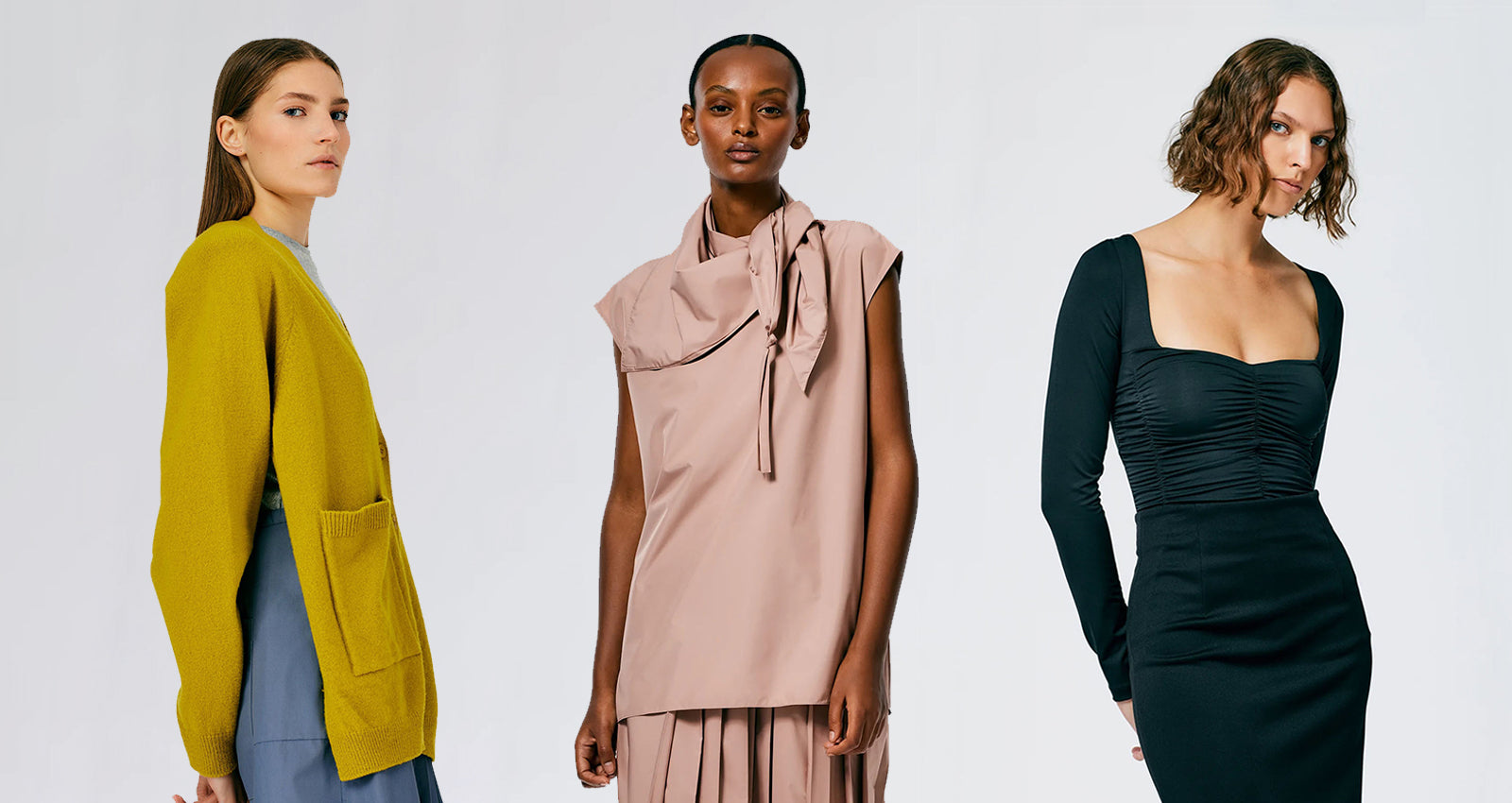 Best Office Essentials For Your Body Shape
So you just bought a new outfit, but it's not looking as good on you as it does on the model? One likely factor is that the clothing just isn't very suitable for your body shape, thus it could sit weirdly in some areas, or work against you by enhancing the wrong features.
Understanding your body shape and its proportions is crucial for anyone wanting to dress better. While you can shape up to a certain extent with exercise - our bodies are mostly pre-defined by our genes and fat and muscle distribution, so learn to work with your body and know that all body shapes are unique and beautiful in their own way.
Today, we explore an array of elevated work essentials by New York-based fashion label Tibi specially curated for different body shapes.
RECTANGLE
You have a straight silhouette where your shoulders and hips are proportionate with little to no definition in the waist. This shape is also known as the 'Supermodel Body' as it is one of the most common body shapes among models.
Left to Right: Flora Jacquard Skirt | Wrap Pleated Skirt | Sleeveless Cocoon Top 
We recommend drawing attention to your waist by enhancing it to create the illusion of a curvier figure. Belts will be your trusty companion, and tops with voluminous shoulder lines will broaden your upper half while a-line skirts will create curves down from a cinched waist. 
PEAR
You have broad hips wider than your bust and shoulder-line, alongside a well-defined waist and fuller thighs. 
Left to Right: Stretch Shirred Bodysuit | Eco-Poplin Sleeveless Shoulderpad Shirt | Summer Denim Pleat Sleeve Top 
For pear-shaped bodies and its like, we recommend balancing out your heavier bottom with wider necklines to create the illusion of broader shoulders. Opt for puff sleeves, shoulder-padded tops, and slim straps to draw attention to your neck and shoulder-line. 
INVERTED TRIANGLE
Your shoulder line is wider than your hips with little to no waist definition. Your body follows the shape of a 'V', and your shoulders may be straight or squared.
Left to Right: Eco-Poplin Strappy Dress | Nylon Pleated Maxi Skirt | Tropical Wool Stella Pants
We recommend accentuating your bottom half with flared, a-line silhouettes to balance out your broader upper half. Pick wide-legged trousers over tapered ones, and looks towards fit-and-flare silhouettes over body-fitting pieces. 
HOURGLASS
Your bust and hips are similar in measurement with a narrow, well-defined waist that is at least 25% smaller than your bust and hips. You would describe your body as curvy with rounded edges.
Left to Right: Ribbed Cropped Tank Top | Organic Cotton-Tencel Open-Back Dress | Structured Knit Pencil Skirt 
The main feature of your body will undeniably be your waist, so we recommend body-fitting styles and waist-cinching silhouettes that will further enhance your curves. 
ROUND
You have a body shape similar to an Inverted Triangle, but with a wider waist and fuller midsection. You also tend to put on weight in the upper body section first before anywhere else. 
Left to Right: Eco-Poplin V-Neck Pleated Dress in Hazelnut | Eco-Poplin V-Neck Pleated Dress in Dark Grey | Soft Lambswool Half Cardigan 
We recommend investing in scoop or v-neck pieces that are universally flattering, as well as long, straight silhouettes to create the illusion of vertical lines that can help visually elongate your body.
Discover more at CLOSET SINGAPORE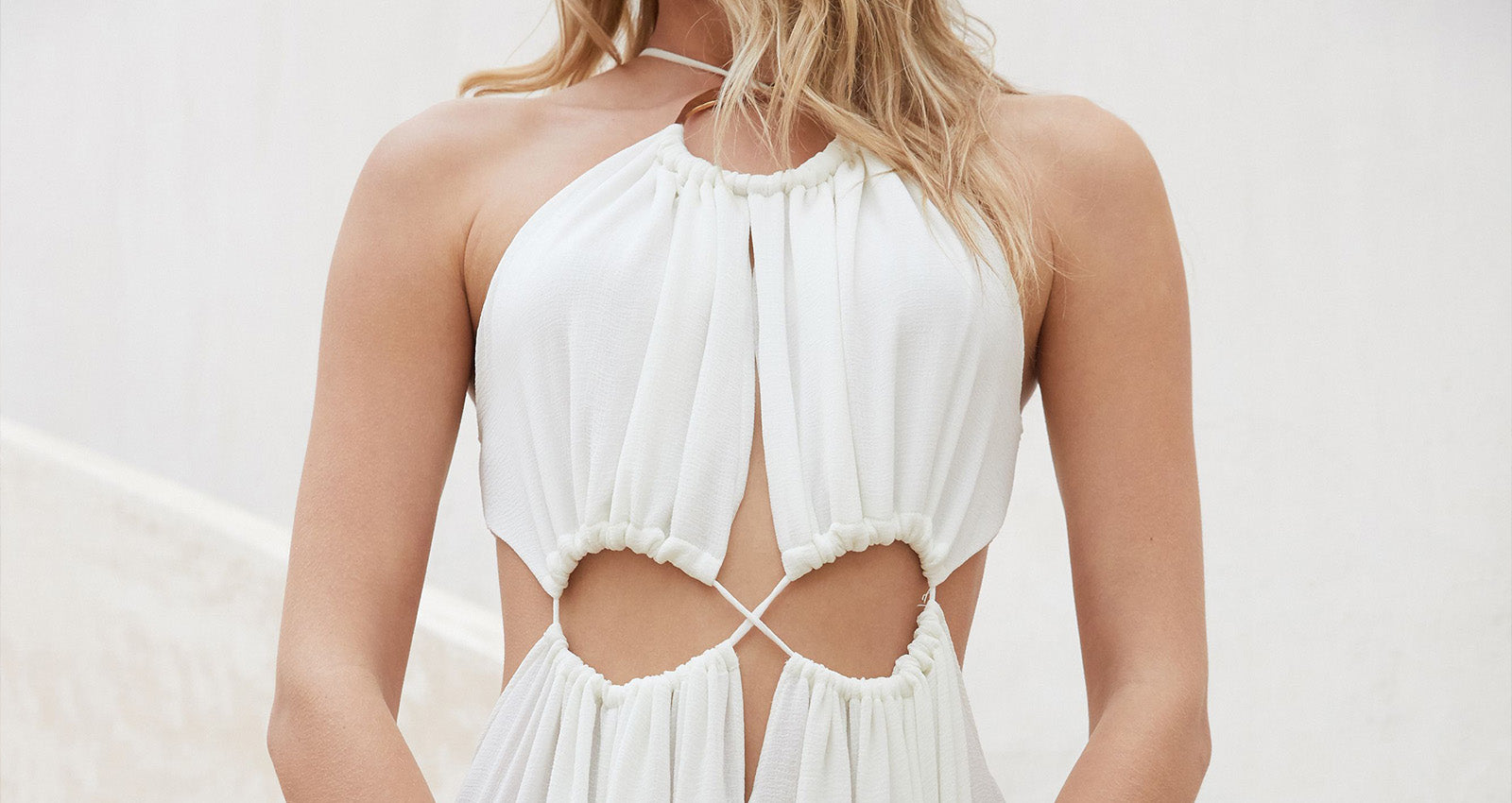 Dressing To Your Valentine Mood
This month, we celebrate love the way you want to - in all its forms and glory. Be it a date night with your partner or Galentine's with your girlfriends, set the mood in romantic silhouettes and c...
Read more